Michalina Kubicka
Barriers to Access: The Youth Vote
Updated: Oct 28, 2021
Hey y'all! Welcome back to the blog. As always, we're glad you're here.
Today, we're looking forward to sharing the latest installment of our series on barriers to voting access. Last week, we looked at the barriers keeping older Americans from the ballot box, so it only felt appropriate that this week, we would look at barriers facing their young counterparts.
(Getty Images)
Young voters (for our purposes today, 19- to 29-year-olds) have historically voted at far lower rates than any other age group: in 2016, only 39% of 18- to 29-year-olds voted, compared to 71% of those over 65. Though 2020 saw historically high voter turnout for Americans of all ages, turnout remained highest for those in older age groups: 76% of all 65- to 74-year-olds voted, compared to just 51.4% of those 18 to 24.
Some are quick to blame low youth turnout on apathy or laziness, but, as we know by now, there's almost always more to the story. Those seeking to suppress the youth vote (which is *much* more diverse and left-leaning than the country as a whole) have a number of possible avenues, many of which are exploited often and enthusiastically.
Polling Places
For would-be youth vote suppressors, one of the easiest ways to keep youth away from the polls has proven to be keeping the polls away from them. Access to polling places is a massive problem for young voters: in the U.S., those aged 18-29 make up just 1.29% of all car owners. This leaves the vast majority of young voters at the mercy of election officials' placement of polling stations. Unfortunately, election officials and their counterparts in many state legislatures are doing their absolute worst:
In Texas, lawmakers recently banned the use of temporary or mobile early voting sites, which were widely implemented on college campuses.

This past September, the University of Georgia announced that, due to COVID concerns, the university would not have an on-campus polling site, despite continuing to host football games at the 10th largest stadium in the NCAA. After swift backlash, from students and voting advocacy groups, the university reversed course.
Unsurprisingly, young voters of color face even steeper barriers: 35% of voters of color aged 18-29 who did not vote in 2016 said lack of transportation to a polling place was a reason why they did not cast a ballot, compared to 27% of white voters 18-29.
Proof of Residency
Young voters are more likely to move around often than older voters: according to an analysis (conducted by my personal vision board, Zillow), over 45% of young people have lived in their current residence for less than two years. This creates a series of hurdles when looking to vote: not only do young people need to frequently re-educate themselves on their voting options, polling places, and candidates, they frequently need to update their voter registration status if they want to make their voices heard.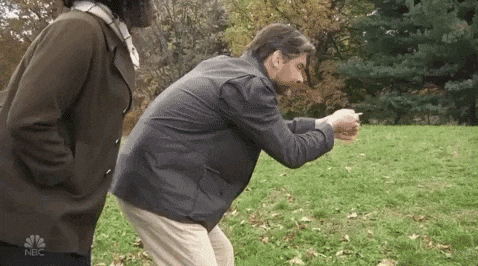 Me, a millennial, trying to buy a home in my price range.
Proving residency in a new place can be a particular challenge for college students, who may be considered residents of both the state in which they attend college and their home states. New Hampshire lawmakers* have been leading the offensive against students seeking to vote in the state: in 2020, state legislators introduced a series of bills to 1) prevent people from voting in New Hampshire if they maintained a home address in another state, 2) forbid students from registering to vote at their college address, and 3) prohibit the use of a college ID as a voter ID.
*college students make up 12% of New Hampshire's population, more than any other state.
Voter ID
A number of states restrict the use of student IDs as voter ID or to prove residency in a state, which radically impacts the ability of young people to exercise their right to vote. In one glaring example, Texas allows the use of concealed-handgun licenses as voter ID, but not student ID.**
**Notably, the student population in the University of Texas system is majority-minority, and UT-Austin serves enough Latino students to be considered a Hispanic-Serving Institution. 84% of the holders of concealed-handgun licenses in Texas are white.
And, of course, there are disparities: in a survey of 18-29-year-olds who were registered but did not vote in 2016, 15% of white voters and a whopping 30% of voters of color cited "problems with voter ID" as a reason why they did not vote.
Financial Costs
Young voters face a bevy of direct and indirect costs when looking to vote, ranging from the cost of printing and mailing an absentee ballot request (including postage for the mail ballot request and for the mail ballot itself) to the cost of taking time off work to go to the polls.
According to the National Conference of State Legislatures, 11 states require absentee or mail ballots to be notarized or legally validated by one or more witnesses. Speaking as a "young person" (my back pain begs to differ), I'm not sure I've ever even seen a notary in person.
What We Can Do
Research indicates that a few simple reforms can drive up youth voter turnout dramatically: same day voter registration and pre-registration (allowing 16 and 17-year-olds to pre-register to vote before they're officially eligible) have both been shown to substantially increase turnout for young voters.
Coincidentally, both of these provisions are in the For the People Act, which you can call on your representatives to pass by reaching out to their offices directly (especially if they're a houseboat dweller from West Virginia) or by calling the Capitol switchboard at (202) 224-3121, where a friendly operator will direct your call.
Thanks for reading, y'all! Talk soon.
"American history is longer, larger, more various, more beautiful, and more terrible than anything anyone has ever said about it." – James Baldwin